PRODUCT
▶ BLX 200
Fast load time, 1080p upscaling with 1080p24 compatibility, BD Live, Dolby TrueHD, DTS-HD Master Audio, PCM 24/192, also plays DVD, CD, AVCHD, JPEG, MP3, WMA, rear IR input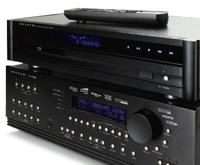 Ultra-fast loading and response time;
HDMI version 1.3 output with support for both 36-bit Deep Color and x.v. Color;
Spectacular 1080p picture quality with up to 1920 x 1080p screen resolution;
True 24p! Full compatibility with 24 movie frames per second (the rate used in original theatrical releases) produces an authentic film-like home theater experience;
Built-in audio decoding and bitstream audio output for advanced Dolby TrueHD, Dolby Digital Plus and DTS-HD Master Audio soundtracks;
7.1 PCM audio output via HDMI;
Backward compatibility with standard DVD and CD formats including DVD-ROM, DVD-R, DVD-RW, CD and CD-R;
DVD up-conversion: The BLX 200's built-in de-interlacing and scaling technology 'up-converts' the picture quality of your 'prior-to-Blu-ray' DVD collection;
A full 12-bit video pipeline offers low noise and full high-definition motion-adaptive de-interlacing for 1080p60 output. The improved video quality offers a cleaner, smoother, truer-to-life picture free of visible artifacts. The user-selectable 480i, 480p, 720p, 1080i, 1080p output allows DVD to be output at its native 480i resolution, bypassing the BLX 200's internal de-interlacing to allow the use of cutting edge outboard video processing such as that found in Anthem and Anthem Statement processors.
12-bit/162-MHz video DACs (digital-to-analog converters);
Ethernet port, 1 GB internal storage and additional 2 GB USB Flash Drive for accessing BD-Live™ features …
BD-Live™ Compliant (Profile 2.0). Additional content and web enabled interactive features are a big part of Blu-ray's appeal and the BLX 200's Internet connection is the portal to enjoying them all.
Whether it's additional behind-the-scenes or deleted video footage for the movie you're watching, instant message chats or scheduled chats with the movie's director, interactive games, movie trailers, it's all accessible via the on-screen BD-Live connection on your Internet-connected BLX 200. Want to watch the movie in another language … simply download the language script (where available) directly from the Internet, via your BD-Live connection;
BonusView™ simultaneous audio/video streaming! Access the added fun and flexibility of the BonusView™ feature found on today's Blu-ray discs. Enjoy two different audio and video streams simultaneously in Picture-in-Picture (P-in-P) form: Watch and listen to the movie on the full screen while the director's commentary or other supplementary features play on a smaller inset screen;
Digital Optical and Coaxial outputs allow digital connection of A/V receivers and preamplifiers even if they don't have HDMI;
With the BLX 200's AVCHD support, high-definition home movies burned to a standard DVD in AVCHD format can be played back in high-definition. The BLX 200 also plays recorded Blu-ray discs (BD-R and BD-RE);
Capacitance touch transport control (Play, Pause, etc.) buttons;
External IR Remote 'In' port allows for fast and easy integration into existing complete home theater control systems;
Comprehensive Remote Control;
The front panel USB port allows for future firmware updates.